.
​
Medicare Rebates
​
​
​
Organizations of Interest
Audiology Australia
A professional society representing Australian audiologists. ASA Full Membership requires evidence of a Master's of Audiology degree (or equivalent). Audiology Australia members have agreed to practice audiology in accordance with the Code of Ethics and Professional Standards of Practice. Able Hearing audiologists are Full members of the society.
Hearing Services Program
A Canberra-based government office, within the Department of Health and Ageing, which assumes responsibility for the regulation and administration of the Hearing Services Program in Australia in relation to hearing services delivered to pensioner, veterans, and other approved applicants; children under the age of 21 and adults with complex communication needs.
Department of Human services
Chronic Disease Management Plan is admnistered through the Department of Human Services. People with a chronic medical condition may be able to get Medicare benefits to cover allied health services that help manage their condition. If you have a chronic medical condition, your family doctor may suggest a GP Management Plan. Contact your family doctor to find out more about chronic disease management.
American Academy of Audiology
The American Academy of Audiology is the world's largest professional organization of, by, and for audiologists. The active membership of more than 12,000 is dedicated to providing quality hearing care services through professional development, education, research, and increased public awareness of hearing and balance disorders
Hearit
A web site that has been established to increase public awareness of hearing impairment.
Deafness Forum
The peak body for deafness in Australia. Established in early 1993 at the instigation of the Federal government, the Deafness Forum now represents all interests and viewpoints of the Deaf and hearing impaired communities of Australia (including those people who have a chronic disorder of the ear and those who are Deaf/Blind).
Better Hearing
A non-profit, self-help organization controlled by its members which provides an Australia-wide community support service of rehabilitation and help for Australia's hearing impaired.
Australian Tinnitus Association
The Australian Tinnitus Association (NSW) Ltd is a non-profit company established in Sydney in December 1984 and is supported by the South Eastern Sydney Area Health Service. ATA's mission is to provide information, support and counselling to tinnitus sufferers and preventative education to the wider community.
Ménière's Australia
This resource is run by the Ménière's Australia a non-profit charitable organisation which offers support to people with Ménière's disease, their families and carers. Health professionals also make use of their resources.
The Acoustic Neuroma Association of Australia
since 1984 ANAA have provided support and information about Acoustic Neuroma to those who have had or are facing treatment for an Acoustic Neuroma or any other benign cranial tumour.
The Dangerous Decibels project
A public health campaign designed to reduce the incidence and prevalence of Noise Induced Hearing Loss (NIHL) and tinnitus (ringing in the ear) by changing knowledge, attitudes, and behaviors of school-aged children.
Cochlear Limited
A company known for global innovation and in in depth research; production of implantable hearing devices (namely cochlear implants) and surgical management of deafness.
Audiology Online
Is dedicated to providing news, information and professional education. AO does not sell products or offer clinical services. The goal is to remain the primary information resource for the benefit of the patients we are honoured to serve, the profession we choose to participate in, and the industry that provides the tools to accomplish our goals.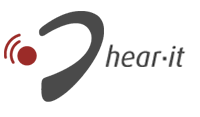 At able hearing we are happy to help anyone with a hearing concern, be it a child or an adult. You do not require a referral from a doctor to see us, however, in many cases it is recommended so we are able to understand your health concerns better.
Here you will find a collection of LINKS to relevant or interesting websites and answers to some of the more frequently asked questions:
Am I eligible to receive free hearing services?
The Australian Government Hearing Services Program (the program) provides eligible people with access to a range of free and subsidised hearing services, including:
a comprehensive hearing assessment;

help with your hearing loss and communication needs, including support and rehabilitation services;

access to a wide range of high quality hearing devices, if required, made by leading manufacturers; and

optional maintenance support. You can receive repairs and batteries to support your hearing device for a small fee.
You are eligible for the program if you are an Australian citizen or permanent resident 21 years or older and you are:
a Pensioner Concession Card Holder;

receiving Sickness Allowance from Centrelink;

the holder of a Gold Repatriation Health Card issued for all conditions;

the holder of a White Repatriation Health Card issued for conditions that include hearing loss;

a dependent of a person in one of the above categories;

a member of the Australian Defence Force; or

part of the Australian Government funded Disability Employment Services (DES) – Disability Management Service and you are referred by your Disability Employment Services case manager.

​
If you believe you are eligble and you wish to see our audiologists - please ring our staff on 03 9503 6120 and we will be able to apply on your behalf on the spot. You will need a referral from your family doctor if you are applying for the first time.
Alternatively, if you wish to apply online - please click on the button below:
If you have been referred to us by an ENT Specialist or an Otoneurologist we are happy to offer you partial Medicare rebates for the diagnostic services provided by our practice. A referral letter from a relevant specialist must be presented at time of consultation to receive the rebate. Unfortunately, standard referrals from your GP are not sufficient. If you are suffering from a chronic condition please discuss with your GP if a Chronic Disease Management Plan (CDM) is relevant to meet your needs. Patients seen under CDM are also eligible for partial rebates. For more details please visit the Department of Human Services website.
​
​
​
​
​
If you have extras cover as part of your health insurance, a proportion of the cost of hearing aids and private consultations with us may be claimable through your extras health insurance such as Medibank Private, Australian Unity, BUPA, NIB, HCF, AHM and many others. According to Choice Magazine, Benefits range from $200-$2000, with the average being only about $800.
The chart below is an estmate only, please ring your health insurer to find out what your fund will contribute towards your hearing health.
​
The Victorian government in many instances provide assistance in obtaining hearing aids to people who suffered a hearing loss due to occupational exposure or traffic accident. We are accredited to provide hearing aids and services to WorkSafe and TAC clients. WorkSafe can pay or reimburse workers for the reasonable costs of approved hearing devices as compensation under the Act. Typically mid range instruments are covered. We are happy to discuss your concerns and needs and advise you on the most appropriate device available under the scheme. Costs of diagnostic consultation, aid adjustment, battery costs are also covered under the scheme. If you would like advice regarding a claim for call us on 03 9530 6120 or email us at info@ablehearing.com.au
​
​
​